Ultimate Guide to Your Next Music Festival Using a Roof Top Tent
Navigation
Introduction
Music festivals are thrilling experiences filled with incredible music, vibrant energy, and unforgettable memories. If you're planning to attend a music festival, why not enhance your experience by using a roof top tent? In this ultimate guide, we'll walk you through everything you need to know about utilizing a roof top tent at music festivals, providing you with detailed tips, insights, and recommendations.
Advantages of a Roof Top Tent at Music Festivals
Imagine a music festival where you've just spent a day immersed in the pulsating beats of your favorite bands, surrounded by a sea of fellow music lovers. As the final notes of the night fade away, instead of facing a long drive home or a night in a crowded, noisy campground, you just climb up into your roof top tent.
Pretty easy, right? Having a roof top tent at a music festival is like having your own private oasis amidst the energy and excitement. It's a place where you can rest and recharge, away from the crowds but still right in the heart of the action.
For those traveling from afar, a roof top tent eliminates the need for expensive hotel rooms or the hassle of setting up a traditional tent. It's your accommodation and transportation all in one, giving you the freedom to come and go as you please without missing a beat of the festival.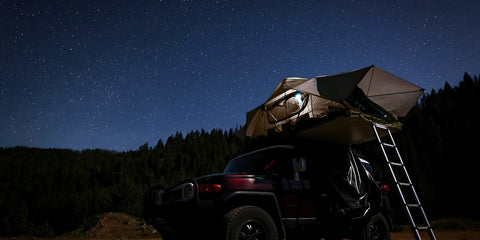 How to Choose the Right Roof Top Tent for Music Festivals?
When deciding a roof top tent for music festivals, consider the unique challenges and opportunities that these events may present. You'll want a tent that's quick and easy to set up and take down, as you may be moving locations within the festival grounds.
Consider the weather conditions typical for the festival season. A hardshell tent can provide more protection from rain and wind, while a softshell tent might offer more ventilation for hot summer festivals.
Size matters! If you're sharing the tent with friends, you'll need enough space for everyone to sleep comfortably. But remember, bigger tents can be heavier and more difficult to install.
Preparing for the Festival
Before you hit the road, make sure to check the festival's rules and regulations regarding roof top tents. Some festivals may have specific guidelines about where you can set up your tent or how early you can arrive.
Packing for a roof top tent at a music festival requires some thoughtful planning. In addition to your usual camping gear, consider bringing items like earplugs for sleeping, a small fan for hot weather, and extra blankets for chilly nights.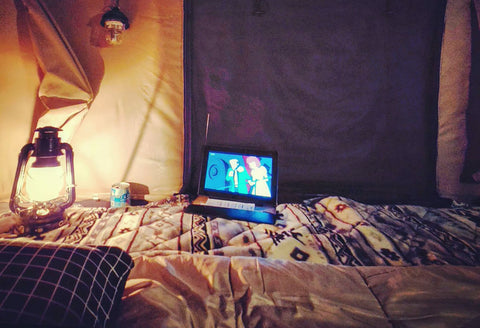 Setting Up Your Roof Top Tent at the Festival
Once you arrive at the festival, you'll need to find a suitable spot to set up your roof top tent. Look for a level area that's not too far from the festival grounds, but far enough away that you won't be disturbed by late-night revelers or early-morning sound checks.
Maximizing Your Roof Top Tent Experience at Music Festivals
A roof top tent can be more than just a place to sleep - it can be a part of your festival experience. Hang fairy lights for a cozy atmosphere, bring a portable speaker to keep the music going, or set up a small camping table for late-night snacks. You can also create your own small concert with a car side awning, solid and waterproof, which can protect you and your friends from unexpected hot sun, rain, hail, snow, or sleet and provide extra space for extra fun.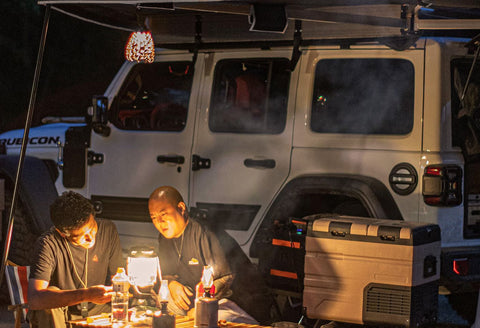 Practical Tips and Safety Measures for Using a Roof Top Tent at Music Festivals
Safety is paramount when it comes to using a roof top tent at a music festival. Here are some practical tips and safety measures to ensure a secure and enjoyable experience:
Secure Tent Installation: Before you leave for the festival, make sure your roof top tent is securely attached to your vehicle. Check all the mounts and brackets to ensure they're tightly fastened and in good condition. Once at the festival, double-check the installation before climbing up into the tent.
Ladder Safety: The ladder of your roof top tent is your primary access point, so it's crucial that it's stable and secure. Always test the ladder's strength and stability before climbing up or down. Avoid using the ladder if it's wet or slippery, and always wear suitable footwear when climbing.
Recommended Music Festivals for Roof Top Tent Camping
There are many music festivals in the United States that are perfect for rooftop tent camping. For instance, Bonnaroo in Tennessee is well-known for its vast camping grounds and enthusiastic community. Coachella in California offers car camping options, allowing you to set up your rooftop tent right next to your vehicle. Firefly in Delaware has designated RV and camping areas, providing plenty of space for rooftop tents. In addition to festivals, you could also attend some large concerts. For example, Coldplay will be giving 40 concerts up to November 22, 2023, with some of them being in the US. The combination of their music and the camping experience could add a special flavor to your camping trips. Other artists like Elton John, Bruno Mars, and Adele also have tours in the US, and their concerts are often held in large outdoor venues, allowing you to set up your rooftop tent nearby and enjoy the harmony of music and nature.
Conclusion
A roof top tent allows your music festival experience to extend beyond the music itself by providing a private retreat right at the festival site. Whether you're a seasoned festival-goer or a first-time attendee, a roof top tent can transform your time at the festival into a round-the-clock adventure. Instead of having to leave when the performances end, the roof top tent provides a place for you stay and continue making memories day or night.