How to Stay Dry in the Rain with a Roof Top Tent?
Spending the night under the stars sounds romantic, but in reality a rainy night in a roof top tent can quickly turn uncomfortable and unpleasant. If you love the convenience and elevated view of a roof top tent but dread the thought of getting caught in a sudden downpour, this guide is definitely for you. Following these simple tips will help you stay dry in the rain, sleep peacefully through storms, and enjoy a safe and comfortable camping experience with your roof top tent.
Selecting the Right Roof Top Tent
When shopping for a roof top tent, there are a few important factors to consider to ensure you get a tent that will keep you dry in rainy conditions and provide a comfortable camping experience.
Size and capacity
Obviously, you want a tent that fits your vehicle and accommodates the number of campers. Larger tents generally offer more overall space but are heavier, bulkier and cost more. Consider if you need extra room for gear storage.
Material and waterproofing
The tent material and coatings play a big role in how water resistant it is. Look for a tent made with PU or PVC coated poly-cotton that has a hydrostatic head rating between 1000-3000mm. Higher is better.
Installation and ease of use
Some roof top tents require a complicated install process while others simply lift and lower. An easy pop-up and fold-down design makes for quicker setup in the rain and less hassle.
Additional features to look for include:
Roof vents and large windows for ventilation
Mesh mosquito netting to keep bugs out
A rain fly that covers the entire tent for added protection
Thicker padded mattress for comfort
Floor tub that catches drips and condensationHopefully this advice helps narrow down your choices to find the best roof top tent that will keep you dry, comfortable and able to enjoy rainy camping days. Let me know if you have any other questions!\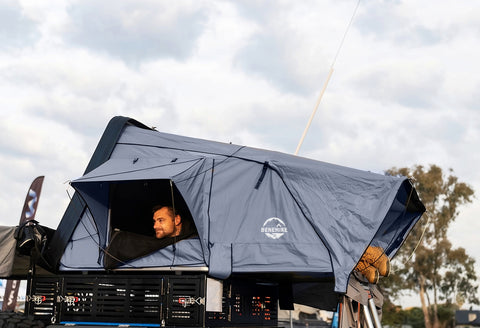 Preparing for a Rainy Weather Camping Trip
Before heading out on your trip with a roof top tent, especially a water resistant model like the Benehike tent, take the following steps to optimize your experience in wet conditions:
Check the extended weather forecast in detail for your campsite destination. Pay close attention to the percentage chances of precipitation each day during your stay. Catching even a slight chance of showers will allow you time to gather any additional equipment or make minor adjustments.
When arriving at the campground, scout out a parking spot that is slightly elevated and on moderately well-drained ground. Avoid low-lying areas where water could pool underneath your vehicle, as well as spots directly under dense tree canopies that will drip heavily during and after rainfall.
Once parked, lift your versatile and weather-resistant Benehike roof top tent onto the vehicle rack system. The Benehike tent was made of fabric that has a PU waterproof coating of 5000mm. The seams have been heat-sealed using a waterproofing technique.Therefore, the PU fabric and sealed seams provide very good water resistance for most moderate rainfall. However, for heavier downpours you may want to attach an additional groundsheet underneath the tent flooring as a secondary barrier to block water penetration. Check that all guylines anchoring the tent canopy are tightened down fully to minimize flexing in strong winds. Open the roof vents completely to allow any accumulating rainwater to properly drain out and minimize moisture buildup inside the tent.
Pack additional gear to stay comfortable like waterproof rain ponchos, shoe covers, a sleeping bag fitted with a protective liner and microfiber camping towels. After the rain stops, the towels will come in handy for wiping down any excess moisture that accumulated within the tent interior.
Most importantly, maintain a flexible mindset and enjoy the experience - the sounds of raindrops on a roof top tent can make for some of the most peaceful and memorable nights spent under the stars.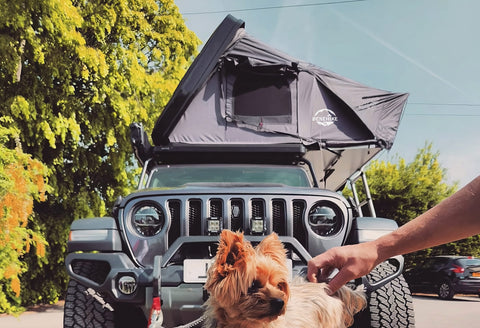 Staying Dry and Comfortable Inside the Roof Top Tent
In addition to proper preparation before a rainy camping trip, taking the following steps once your roof top tent is setup can help keep you dry and comfortable inside:
Proper tent setup
Level the vehicle: Ensure your vehicle is parked on as level ground as possible. Even a slight incline can cause rainwater and condensation to pool on one side of the tent.
Ensure a tight and secure attachment: Double check that all straps and clips securing the tent to the vehicle rack are fastened tightly. This helps reduce flexing of the canopy fabric and prevent water from seeping in.
Ventilation and condensation management
Utilize windows and vents: Open all windows and roof vents to allow airflow through the tent which helps carry away moisture before condensation can form.
Use moisture-absorbing products: Pack products like DampRid containers or silicon packs that absorb excess humidity inside the tent and keep the air drier.
Managing wet gear and clothing
Create a designated drying area: Have a dry sack or tub inside the tent where you can place boots, coats and any wet clothing for the duration of your trip.
Use waterproof storage bags: Packing wet items in water-resistant dry bags will contain moisture and allow them to dry out more effectively.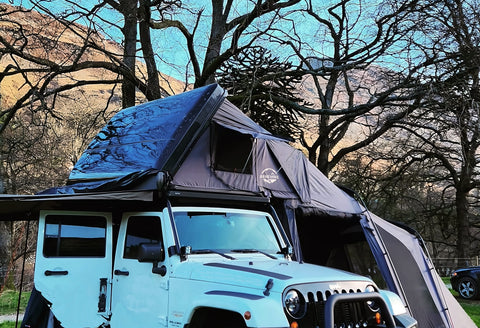 A properly ventilated and dehumidified roof top tent, along with a plan for drying wet gear, can help you stay comfortable even during long periods of rainy weather. Combined with a high quality tent like the Benehike with durable, water-resistant fabric, these strategies will optimize your camping experience in any conditions. So, forget about the bad mood brought by the rain when you are camping outdoor, a good waterproof tent like Benehike can keep all the worries away!